www.Philately.ws
"The Web Site of Philately"
You want to sell Your stamps or You would like to know how much they are worth?
For this purpose I let create these pages under the domain www.philately.ws!
How much is a stamp worth ?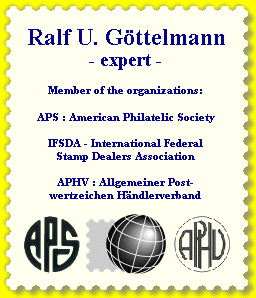 HOW MUCH is a stamp worth ?
The stamp catalogs are quoting the so-called catalog value of a stamp. The most common catalogs are 'Michel' for the German, 'Yvert & Tellier' for the French, 'Stanley Gibbons' for the anglo-saxon and 'Scott' for the American stamp collector.
All these catalog values are an assessment basis for the value of the stamps being compared to another one and these prices are to be applied only to absolute perfect items. Catalogs of the same edition and the same editors have to be used when comparing the worth of stamps or exchanging items with other philatelists .
You should not confuse catalog value and price. The price is always the amount what a real buyer is willing to pay for a stamp or a stamp collection; therefore estimations of so-called experts are absolute worthless if not accompanied by a definite buying-order! (Please, do not confuse estimation with examination; an examination is undertaken by an expert to give a comment upon the genuineness and grade or condition of a stamp).
Buying cash stamps of France and Germany as well as stamps of the germanophone countries, buying always according to my actual wantlist.. Please note the list of urgently needed stamps - It would be a pleasure for me to inform you about all prices we pay for your stamps.
Visit regularly these pages - they are constantly updated!